︎︎︎︎︎︎︎︎︎︎︎︎︎︎︎

Iron Reef
Reflection
Perfomrnce
︎︎︎︎︎︎︎︎︎︎︎︎︎︎︎︎


Public Art Commission

Client: Norfolk County Council

Design Team: Maetherea (Cristina Morbi, Aurora Destro, Cristina Brena)

Location: Reedham Ferry, Norfolk, UK

Fabrication & Installation: Other People's Sculpture

Engineering: Pierce&Myers

Partner: Broadland District Council, Reedham Parish Council

Client's Agent: Creative Giants

Stakeholders: Reedham Ferry Inn + Campsite, Archer family, Broads Authority

Community Engagement: Artist Liz McGowan

Photographer: Kristina Chan

Stage: Constructed

Inauguration: October 2023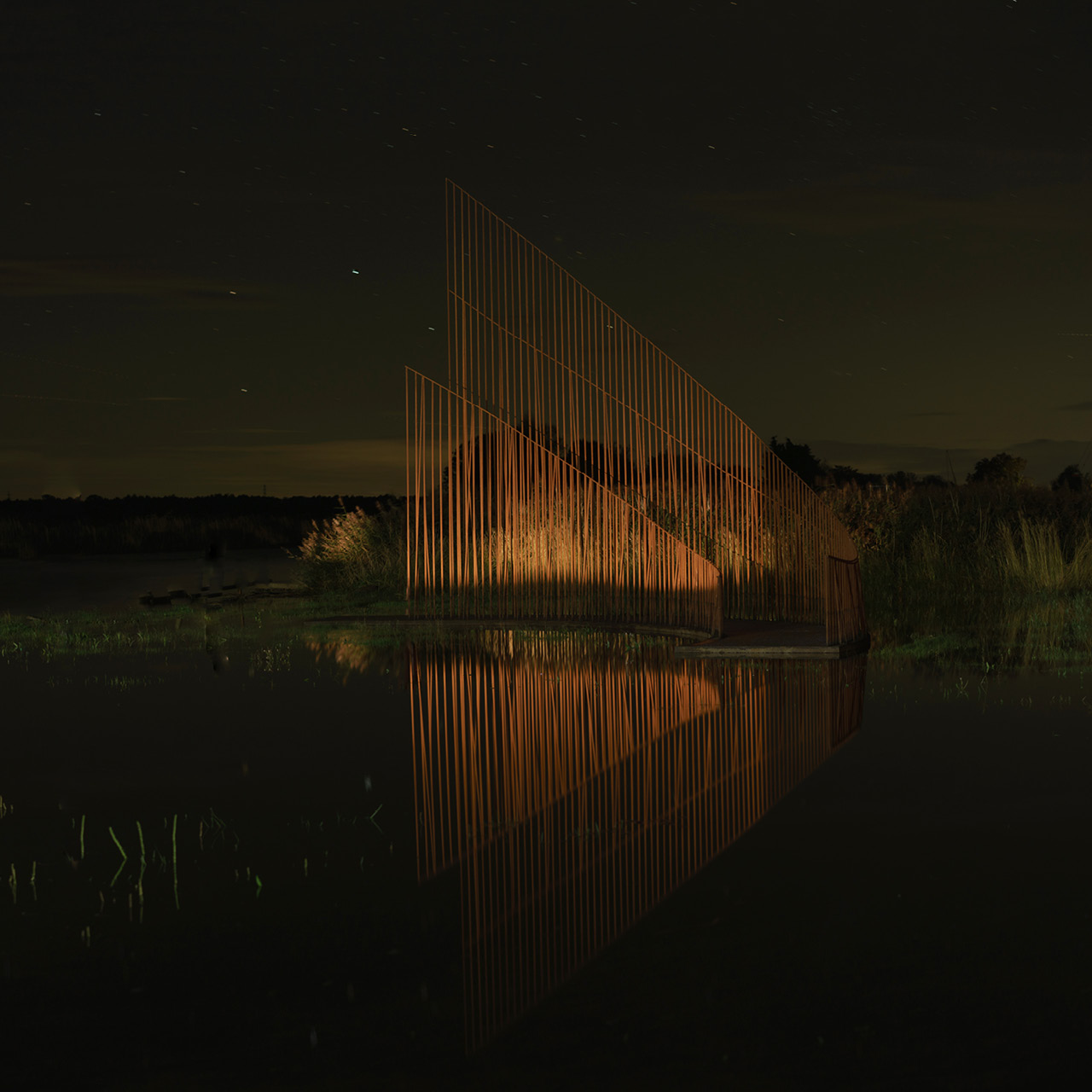 ︎︎︎︎︎︎︎︎︎︎︎︎︎︎︎︎

Tidal Performance
Phenological Artwork
Environmental Landmark

The Iron Reef is a Public Art commission by Norfolk County Council. Together with other three dynamic artworks, it forms the Norfolk Way Art Trail.

Iron Reef celebrates the historical and ecological heritage of Reedham Ferry Inn and the Norfolk landscape: it's a homage to its Chalk Reef and the industrial and nautical heritage of Reedham Ferry.

Iron Reef is an amphibious structure inspired by the anthropised landscape, which can live on both earth and water. Shaped by the winter tides, it emerges as a landmark between reeds. The curved, light metallic structure climbs to the sky, undulating in the wind. It interacts with the water at high tide, creating a visually enchanting reflection. People are invited to interact with it, following the bioluminescent walkway. The vertical elements guide the walk, echoing reeds on the horizon. The tides from the river modify the material, adding patina and oxidation as a performance of colour.

This observation device invites visitors to contemplate the seasonal changes on the River Yare. Reeds are soft green in the warm months and golden in the cold season; their feather-like flowers are purple and silver. Winter tides mirror the artwork, vanishing the line between the land and the water.

Our hope is for the Iron Reef to be a community and an environmental machine: changing through time, shaped by water, nature, and the people that interact with it.